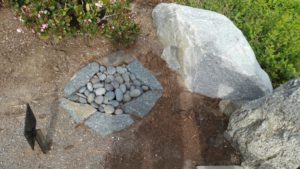 Create a Water Feature without Water!
Many of my clients look at me sideways when I suggest a water feature; my own husband included. (But, he is coming around slowly.)
The 'representation' of water in feng shui is related to Career, your Life Path and also helps with Wealth and Family support. By using a representation of water, rather than 'real water', can still maintain support for these areas in your life.
So, why is there so much resistance utilizing this water-element?
Well, frankly…the wonderful awesomeness of a water feature can be quickly dispersed with thoughts of electrical pumps, cleaning rocks and a funky smell. In other words: a lot of maintenance.
Outdoors, where you can actually find natural ponds, streams and creeks are interesting and desirable to have on your property. As a rule, a house located near to water with a view will thrive! The variable is how fast the water is moving and the quality of the water. You will want the water (money) to flow into the house and stay, rather than float away.
Clear, contained water, can offer clear meditative thoughts. Rushing water can bring abundance, but can also leave you as easily as it comes in. A balance is required to monitor the income and the outcome.
The quickest and easiest way to contain water (and therefore your money) outside is by carefully placing a bird bath, pond or even a dog bowl in your yard.
Inside, reinforcements or 'cures' for a weakness of water-element include hanging seascapes on the walls or placing a dark blue or black rug at the entrance of your home or office.
Cultivating properties of the water-element include more than 'just water'. There is no maintenance involved and the choices are so much more fun: colours, shapes and other representation.
• Colour representation can be dark blue or black; a solid foundation of old money. Think of deep water: steady, solid, contained, no leakage. This colour can be used to decorate or accent any area connected with money and career; on your desk, shoes and clothing or accessories.
• Shape representation is wavy or irregular patterns. Often viewed as playful or whimsical, they can be easily found on area rugs, tea towels, placemats or even present in images hung on the walls. There is a difference between a calm body of water and a raging sea. Use your intuition when choosing soft or sharp representation.
• Other representation is to use tumbled rocks in the place of water. Small tumbled rocks in a pot or vase can represent the water-element; with or without flowers. When used on a larger scale, tumbled rocks can form a moat (protective surround) around your home. They can be raked into a formation or a dry pond surrounded with life, or be as small as a stepping stone. Used in combination with 'real water', such as a bird bath, this type of enhancement can bring abundance to a homestead.
I saw an interesting structure at the Japanese Gardens in San Diego: a 'bridge' over troubled waters. (!) By using both flat and texture in the detailed blocks of the pathway, they created an illusion of a bridge over pond. I loved it!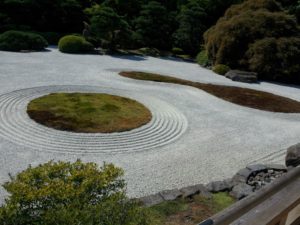 These are only a few creative ideas for bringing representation of the water- element into your space. Using your imagination with positive intention for change, you will be more fulfilled and hang onto your assets.
With all these advantages of having a water-element, a very small percentage of people actually build water features for their own home. If you are ever interested in building a permanent water feature, please ask a feng shui professional to find the best spot to have this feature work for you.
In the meantime, you can still reap the benefits of water by using representation and intention in your creative reinforcements.
All the best,
Kathryn
~ Kathryn Wilking is an Author, Home Stager and Feng Shui Consultant. She works with Home Owners and Small Businesses to find balance and harmony in each situation. Kathryn delivers 'Practical Solutions for Life' through The ONE-ROOM Rescue and unique personality profiling with the Fantastic 5 Elements!
As an active Professional Member of the International Feng Shui Guild, Kathryn is available for private consultations, innovative talks and workshops. Check out her book 'Practical Feng Shui for the Office' (2013) and connect with her through www.kathrynwilking.com
FB Kathryn Wilking Designs
@KathrynWilking
# Fengshui vancouver