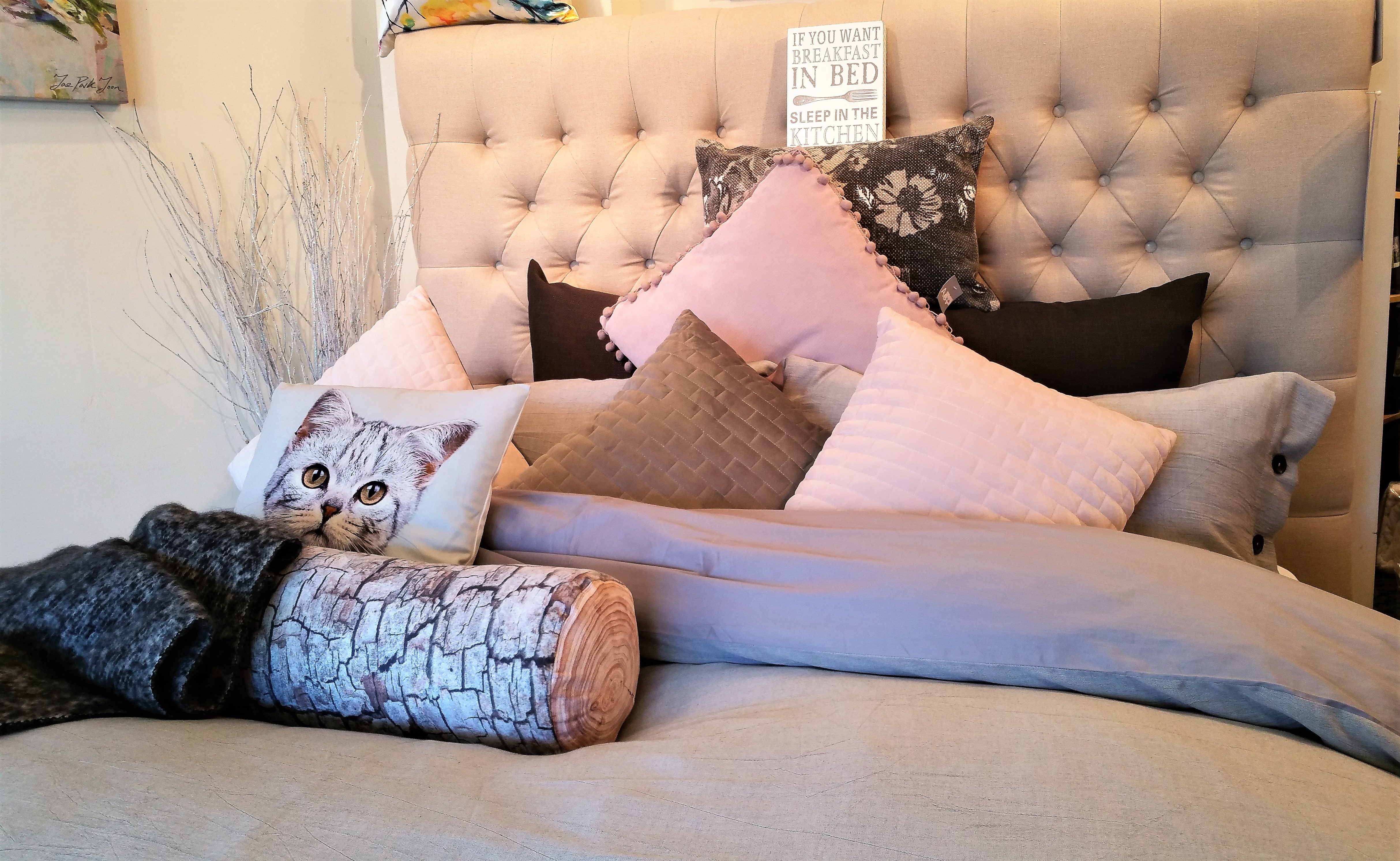 Q: Hi Kathryn! We will be purchasing a new queen-sized bed. I've read a bit online – do you have any reference material I can read? I'm assuming this: -NOT A storage bed (no drawers etc underneath) And, should it have a higher foot board?

I've been looking for a while, and honestly, haven't seen much that appeals to me.

Thanks, Louann
A: Great Question, Louann! Here are a few quick tips when purchasing a new bed!
First, I'm GLAD that you are looking at a bed with a headboard! This puts you in 'the command position' for 8 hours while you are sleeping!
Second, the foot-board* (if you choose) should be no higher than the height of the mattress, for chi circulation. Unless, you NEED the foot-board to act as protection to slow down chi, (too close to the door) a foot-board is not necessary.
Note: Some people place a trunk or bench at the bottom of the bed as a buffer for protection.
In your small space there is no need for a foot-board*, and no room for a trunk!
Next, the shape is important. What message do you wish to convey?
A 'square' headboard has more choices of style and is supportive, grounded and an earth element.
Alternatively, a half-moon shape, or something with a curved design that looks like an arch or gate, can be harder to find. This shape relates to the 'heaven sent' and very supportive of a union and solid partners.
A wood frame is the best material for a bed. Metal frame beds are not recommended as any springs or brass framing can be conductive to EMF's and other interference lines.
You may even consider purchasing the bed individually from the headboard; therefore more choice.
And, if you need to utilize the space under the bed, there are roll-in-roll-out Rubbermaid boxes that fit under the bed. THE ONLY THINGS ALLOWED UNDER THE BED are blankets, pillows and seasonal clothing.
Be sure there are no negative items, no conductivity, no power cords, text books, or unfinished projects under the bed. You get the drift…
~ Sweet dreams, Kathryn
** Kathryn Wilking is an Author, Home Stager and a Feng Shui Consultant. She delivers "practical solutions to life's problems'. Are you thinking of a personal consultation? Or, perhaps you know of a group or associate that would enjoy a lively talk or workshop?
Kathryn has a gentle way of manipulating energy to help find balance and flow in each situation. You can trust her with your concerns. Contact her for a chat to find out how feng shui can help you! In the meantime, you can do your own Lifestyle Assessment here.
Kathryn@kathrynwilking.com http://kathrynwilking.com
#fengshui #leadership #success #consciouschange #qiologypro