Consulting Packages

Rates and Services
People ask me all the time, "What are you going to do at my house?
It is difficult to answer as every site visit is different.
You may initially inquire about enhancing your 'Wealth and Abundance' area. Yet, there may be something else blocking that area, as:
Wealth and Abundance issues are often paired with the Career Area.
Relationship issues are symbiotic with Knowledge and Self Discovery.
Without a good night's sleep, your Health could need a boost in order for you to function during the day.
Here's a package that should take out some of the mystery:
5-part Site-Visit Package: $499.
Great value for a 1,500 – 2,000 square foot space!
We will discuss on the phone for 20 minutes some of the issues of the home, office, family. You and I will set feasible, attainable goals. This initial interview will involve a few questions about your lifestyle and goals; giving us a starting point.
A preliminary assessment of your neighborhood and floor plan (if possible) to see if there is anything obvious that is blocking positive chi from coming to your home (ie: corner lot, T-junction, traffic, bushes, businesses, etc.).
The site visit will take about 2 hours for a 2,500 sq ft area. We will talk about blocked areas, how to bring in better energy and most likely rearrange a few items in your home. I'll recommend some 'homework' for you to continue the process and make changes.
A 2 page report will be e-mailed within a few days including reminders, tips and encouragement to continue the process.
I will follow up by phone at two intervals: 2-3 weeks and 2 months later. In that time you are free to call me with questions about what to buy and where to move things at no charge. I will also be on the lookout for any items that could enhance your area and will send pictures to your e-mail.
After two months, if you require an additional site visit, the charge will be on an hourly basis.
Contact me today to book your initial consultation.
Find out about my Feng Shui Consultations here.
HOURLY SERVICES on site:
$165. Billed in one-hour increments.
Hourly rates will be charged in addition to the 5-part package if the site is very large – needing more time, or a lot inspection is requested.
For very small requests, such as dorm rooms or individual offices: often one-hour is plenty of time to do the assessment. Also includes a report.
Follow-up site visits will be billed at the hourly rate as the floor plan and flow has already been determined.
Payment is due in full on the site visit date. Payment options include cash, cheque, paypal or visa.
Contact me today to book your initial consultation.
Other services such as Space Clearing, Colour Cures, Dousing, Electro-magnetic radiation risk analysis, and distance consultations are subject to an additional cost-per-square-foot (at .20/sq foot) or cost-per-service depending on the situation.

Skype Consultations
Many inquiries are time sensitive and/or tough to book with our busy lives. A Skype call can provide you with the support you need to get started on the next chapter in life.
We begin with a phone call to get to know each other. I want to know more about your lifestyle and expectations and I can explain more about how feng shui can work in your life.
I will need to see a floor plan of your primary areas to make an accurate plan for you. Then we can book a 45 minute Skype time.
We will pre-designate which areas that need support and concentrate on those areas. Support materials will be made available for you to continue the plan/makeover such as: the nine life areas, bagua, personality profile and the Art of Balance newsletter.
SKYPE SERVICES are billing in 1 hour segments at $149. We can often complete two areas of your space in this time.
Includes all the above: Preliminary interview, floor plan assessment, 45 minutes of skype time, and access to resources!
Book around your holiday guests!
Contact me today to book your consultation.
One-day Makeovers
Feng shui is all about the energy; things you can see and things you can't. I can find auspicious areas of your home and use auspicious items to enhance those areas. The result is, we can manipulate energy to your advantage. A site-visit can identify weak areas in your home, bonus areas and provide insight for you to thrive.
Whether you have just moved in or you've been in your home a few years, this package will freshen and redirect the energy flow in your home. We can create a more comfortable living space for you by arranging items, change placement of furniture, hang pictures and look after your personal needs.
A walk though with an Electro-Magnetic Field Monitor can identify some of these problem areas along with your Feng Shui Consultation. This is great for Extra Sensitive People having trouble sleeping or settling into their environment. I can help you find positive energy within a given space.
We can create a more comfortable living space for you by rearranging things so they work: changing the placement of furniture, hanging pictures, and looking after your personal needs. With a fresh eye, we can bring in new energy to make your home more appealing to come home to!
Check out our makeovers in the GALLERY
Contact me today to book your initial consultation.
Packages from $299.*
– Walk through for Do-it-Yourself clients: suggestions for packing up, furniture arrangements, displays and shopping.
Packages from $499.*
– Full ONE-day makeover of rooms: furniture rearrangement, flow, colour. Pictures rehung. Pizazz!
* Packages are generally quoted on a per-square foot basis. Please call and talk to me about your needs. Furniture and picture rentals are an additional charge when required.Furniture and accessories purchased (if necessary) will be invoiced separately.
____
One-Room Rescue $299.*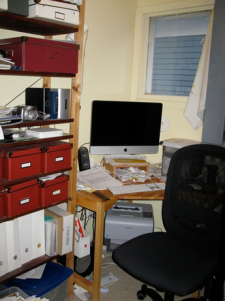 This package is popular with small businesses and home offices.
The One-Room Rescue has always been an option when something isn't quite right.
Bring in the detective!
A one-to-two hour consultation for a specific problem is the best way to get back on your feet. You can call me anytime to talk about Practical Solutions for your individual issues.
This specific One-Room Rescue Includes a ZOOM Computer call, one-page report and follow-up call to review any new issues or questions.
I DO want you to succeed in your goals!
Having trouble sleeping?
Approximately 50% of you are, so explore a few suggestions that may help.
Is your desk is out of control?
Perhaps a few organizational tips can help you be productive again.
Could the closet really explode?
Unlikely, but if the thought is there… take charge before this becomes a reality!
If you want something to change in your life, you need to change something.
Contact me today to book your initial consultation.
_________
GENERAL INFORMATION:
With your invitation; I offer insight and address concerns through feng shui principles and philosophies. The intention of the Consultation is to 'find the balance' in a home or business.
Any suggestions or 'enhancements' will be advised with good faith; the execution of these cures will be the decision of the client.
Any accidents or breakage through my actions will be taken care of through my own insurance.
ADDITION COSTS may occur for extended time, distance or shopping for client needs.
PAYMENT is due on the site-visit day: cash, cheque, pay pal or credit cards.
GST is an additional 5% of the total balance.
 The cost of each project may vary: this depends on the size of the rooms and services required.
Other services such as Staging, Space Clearing, Colour Cures, Dousing, Electro-magnetic radiation risk analysis, and distance consultations are subject to an additional cost. This can be determined evaluating Cost per square foot (at .20/per square foot) depending on each individual situation.
Payment is by Cash, Cheque, PayPal or credit card, due on the date of the appointment.
A Personal Home Assessment is confidential and is intended for the sole use of the Client. Details will not be reproduced or released without prior consent of both the client and Kathryn Wilking.
An Assessment or a written report, should only be referred to as a tool when making changes in order to achieve certain results. All recommendations are presented for the client's benefit and are given with the honest intent to assist in addressing the issues identified by the client.
Contact me today to book your initial consultation.