Feng Shui for Your Business

Your Career, Life Path and Wealth Areas
in your home…
all reflect the space where you actually work.
If you work from home, it is important to give special attention to the space you have designated as your office. You may be there only a few hours at a time or the majority of each day; distractions will occur. Learning how to find the best direction for your desk when you need to focus will save you time and boost productivity.
Often, you need to get creative, and I can help! Using practical methods such as ergonomics, colours and images, you can learn to function in your home office.
If you work in a corporate setting, your cubicle or office reveals how productive you can be.(Or not.) Feng shui can help you get organized and set realistic goals. Finding the right balance between self-promotion and being a team player can bring success and more rewards! Developing abilities to be flexible and get along with others will help you to complete projects; reflecting a message that you are a valued member of the team.
Many clients are concerned about the impact of personal interference waves, EMF's and wireless systems can affect job performance. A feng shui professional can test for magnetic frequencies or energy patterns and can adjust these issues for you.
Feng Shui can be very discrete and often has amazing results without the 'smoke and mirrors'.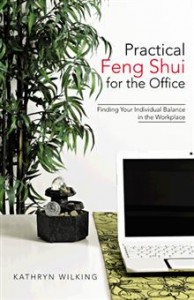 A few things you can do to learn more about Feng Shui:
** Check out my book: 'Practical Feng Shui for the Office' link: http://www.practicalfengshuifortheoffice.com
** Check out the On-line Course: 'Prosper with Feng Shui; The ONE-ROOM Rescue.' Just start with ONE ROOM!
Find out more about The ONE-ROOM Rescue.
CLICK HERE FOR DETAILS
Find out how to enhance your business with renewed energy.
Call Kathryn with your questions: 778 558 2693
If life was a stage:

You could arrange everything so that it looks perfectly balanced,

well-rounded and inviting…

In reality, life is not like that.

You are working for a living and yes, there will be disorder at times! (That is okay.)
Is it time to revive your office?
I see so many people that are embarrassed about their desks and offices.Please don't apologize for working, it is what you do and who you are. The weekly routine may be overwhelming some weeks and your desk will appear to be out of control. Other times, the projects will run smoothly. It is all about maintaining a balance. Your tasks may need to be prioritized each week in order to work with your goals.
In many cases it is the unfinished projects that are holding dead-energy as they stagnate motivation for progress. Take the time to file and tidy up each day if possible. The projects that are in process may be messy, but they need positive, progressive energy to keep moving forward.
Perhaps your new project isn't going the way you want it to go? Are you feeling stressed or just lacking enthusiasm? You may not know where to start in order to get things back on track. Physical clutter is only one road-block to success.
Do any of these things resonate with you?
➤ Do you sense that something in your home or office is NOT QUITE RIGHT – and you don't know what to do about it?
➤ Are you stressed and depressed when you go into your home office?
➤ Are you concerned about Electro Magnetic Fields (EMF's) zapping your energy?
 Any of these may be an indication that the energy flow needs to be addressed, in order to find balance in your work space.
I've helped many people get organized in their jobs and find the answers. It often takes courage to ask for help, as well as, some detective work from a feng shui professional.
We can talk together about how feng shui can help in your business. Inquiries for new clients are no charge! I'd like to answer all your questions so you know exactly what to expect from a Feng Shui Consultation. Email me to arrange a time to discuss your concerns.
All inquiries are confidential. ~Kathryn
kathryn@kathrynwilking.com
Comments from Business People:
Grayson's Catering
I just read your book. It was a great read and tons of wonderful information that we can use to grow our business. Great Book! Thank you, Chef Helena. www.graysonscatering.com
I asked Kathryn to come over for a quick walk-about after we experienced a break in.  A number of issues came up, fortunately none had anything to do with the break in.  She discovered my home office was of particularity full of negative energy which is why for years I've had a hard time spending productive time there.  As a result I've remodeled the office (paint and moving the furniture and discarding things) and can say I'm now spending more productive time than before.
My understanding and I'm not an expert, but in the work environment, meeting rooms, offices and such all have power positions. Knowing these, I've made a habit of always planting myself in the most powerful position available.   I've purchased her book, Feng Shui for the Office, as well as some Feng Shui products and have used her services.
I would highly recommend Kathryn Wilking Designs for an honest evaluation and recommendations based on years of experience.
Thanks,
Ken Hembroff
Josef Seibel Canada
'The ONE-ROOM Rescue' package is perfect for Home Businesses.
Designed for corporate work, entrepreneurs and hobbyists alike; a revival of your working space is the BEST WAY to go from chaos to prosperity!
Here are a few ways that feng shui works with your business!
LINKS to Related Topics:
What is Your Management Style?
Practical Steps to Success #21: Present Clear Messages and Save Time
Practical Steps to Success #9:  Get Ready to Make Money!
Feng Shui for Business, Feng Shui Decorating and staging Vancouver, Feng Shui Decorating and staging Fraser Valley, Real Estate Feng Shui Vancouver, Real Estate Feng Shui Fraser Valley, Feng Shui Design Vancouver, Feng Shui Design Fraser Valley