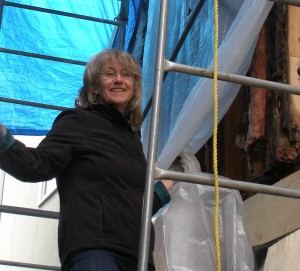 BLUE TARP BLUES
How can a blue tarp turn a reasonable adult into a basket case?
(Kathryn climbs up the scaffold for a personal look at the damage.)
Well, you may find this hard to believe. I've been held hostage by a blue tarp for several years in a row! I'm finally ready to talk about it!
We moved across the country in 2006 for a two year assignment with my husband's work as an engineer. We had flown out for a recon, to look for rental housing solutions. The city was getting revved up for the 2010 Olympics, and it seemed every street in the city was torn apart.
The first home we rented was on 18th Ave; only 18 blocks to the ocean. We saw the orange fencing around the trees next door and thought no more about it. Between the time we signed the lease and the day we moved in, the house next door had been flattened.  The orange fencing was there to protect trees from the machinery.
The first year of our two-year assignment displayed scaffolding and a blue tarp about 2' from my kitchen window. The density is tight in Vancouver, with many builders maxing out the lots to 1' from the property line. Yep, it was a tough year…Welcome to Vancouver.
Towards the end of our first year, the new house was near completion and we imagined the next year to be quieter. Then, we saw the orange fencing show up across the street to protect those trees. We knew what this meant: the house across the street was coming down! Yikes!
'No more!' I said to my husband. I'm sick of the noise. I'm tired of construction trucks and blocked streets. I hate parking around the corner. We are moving!
We ended up on 6th avenue, six blocks to the beach. We rented a newer townhouse near a lovely dog park. The condo-strata board was reviewing its warranty on the buildings. They kept knocking on my door for a look-see for something or other. Fast-forward: the roof in my section of townhouses needed repair. Down came the blue tarp over my kitchen window for a second winter in a row!
Really? What were the odds?
By the end of the second winter, the blue tarp blues set in. In a townhouse, there aren't side windows, only front and back. So, when the sunny south goes under a tarp, the hostage effect becomes a reality.
Life was not good.
Life was not full of sunshine and roses.
Life was not what I had planned at this stage.
I was ready to move back to Ontario pre-maturely, before my husband's contract was up, just so I could get out of Vancouver. Suddenly, a career opportunity opened up for my husband! Somebody wanted him to stay, offered him a very good moving package and a wind-fall salary!
Dare I say no? It is not good to mess with a man's career, particularly in his last 10 working years. This could definitely help us in retirement.
I negotiated.  Sure, we can stay. I want to buy a home (not rent). It need to be less than 20 yrs old and enough room for a garden, a BBQ and our dog.
We searched high and low for something to purchase. We ended up with a semi-detached house in a neighbourhood only one block from the beach.  Being close to the water was a perk. The house needed some work, but that was okay.
The first project: reconfigure and update the master bathroom.

Problem: Found dry-rot in the outside wall under the vinyl stucco.

Solution: Drop the entire east wall, (two stories tall), and push the hot tub off the third floor deck.
Yep, you got it. The blue tarps came out again! We chipped out all the 'bad stuff' and negotiated for a new kitchen and two new bathrooms all at once.  The insurance people, builder and our lawyer could not help us find restitution. We were delayed another four months as the 'common wall' was connected to the other unit. The neighbours had to buy in.
Needless to say, eighteen months later, we finished the master bathroom.
~~
A blue tarp CAN cause stress! Dealing with any change causes stress, but dealing with changes to your immediate space continuously can cause a series of health problems: anxiety, stress, sleeping disorders or alcohol and drug abuse.
I was studying feng shui back in 1998 to help resettle into a new home, but it wasn't until I moved to Vancouver that I felt my sanity was spinning out of control. I was determined to find a way to 'be in command' of my life.
Feng shui taught me this: 
If I can only control this space in front of me today,
then just control that space.
Feng shui taught me how to be in control, and helped with my stress and anxiety. The best thing I could have done to maintain sanity: get out of the house and talk to other people. In the evening I found my little nest, my safe spot, and all was good!
Thank goodness I was able to get out of the house to work part-time. Thank goodness there was an extra shower on the third floor. Thank goodness we could trust and get along with the work crews.
I've previously written about 'Survival During Construction' and 'Being in Command', but neither of these can tell you about the powerlessness that comes with a major renovation.
The best way to get through this is to not place blame. Respect the fact that these things happen.
The sun will shine another day.
~Kathryn
Kathryn of Kathryn Wilking Designs is an Author and Feng Shui Consultant. Her recent book; Practical Feng Shui for the Office, is available in e-book and paperback. Check out amazon.com or indigo.com
Learn more about Practical Solutions for Life at www.kathrynwilking.com