ASK Kathryn About sharing Space with a Bedroom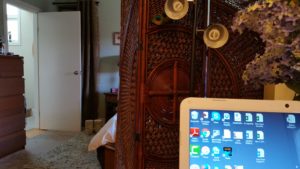 I've read your book and I need more information about feng shui in my bedroom, when I work at home. My house is small, but I can fit a desk into the bedroom. Is there a best way to do this using feng shui? I read that working in your bedroom is not a good idea. Can you explain please? Thx Shelly.
A: Hi Shelly! You are correct: Working in a bedroom is not the most productive choice. However, many people are managing to work in spaces that are 'not the best' situations.
Bedrooms are supposed to be yin-energy; quiet, restful and restorative. Office situations require more yang-energy; concentration, taking initiative and a focus on meeting goals. If you add in the distractions of a computer and wi-fi energy, it doesn't seem very restful anymore. Therefore, you have conflicting goals.
I understand completely as my home office is located just off the master bedroom in an alcove. And, it doesn't have a proper door. I've had to be creative in my own space to get it to work for me.
Here are a few corrections that you can put into place right away:
• For a visual distraction: Place a room-divider between you and the bed or doorway.
• To cultivate energy: Place a floor lamp/flowers/or lively image in this area.
• Arrange your desk to be 'in command' if possible. (Extensive information is found in my book: Practical Feng Shui for the Office.)
• Minimize the wi-fi exposure: Can you connect your computer directly to a modem? Can you move the printer and other gadgets to another room?
Ideally, you do not want any phones or wi-fi in your bedroom as they are proven to disrupt sleep patterns. If you do not have the space for a room divider, I would suggest keeping as many of your 'work materials' (files, reference materials, project work) outside of the bedroom. If you can work part of the time in another area for work such as a dining room table, or living area, then it won't feel like you are living in this one room for 24 hrs a day.
Designate a space (dresser, drawer or bookshelf) for record keeping: files, reference materials and notes. If you can, designate another shelf to place your notebook, recharge your phone and such; this will develop new habits to get these items away from your bed. It is still not the best, but do understand it is important to get these things off the table to enjoy a nourishing meal.
This issue of using space to do 'double duty' can be tricky; most 'cures' are very specific to each person's needs. If you have further questions, we can book a time to talk together.
If you have a question for Ask Kathryn, help is only an email away!
All the best, Kathryn kathryn@kathrynwilking.com
~Kathryn Wilking is an Author, Home Stager and Feng Shui Consultant. She works with Home Owners and Small Businesses to find balance and harmony in each situation. Kathryn delivers 'Practical Solutions for Life' through The ONE-ROOM Rescue™ and unique personality profiling with the Fantastic 5 Elements!
As an active Professional Member of the International Feng Shui Guild, Kathryn is available for private consultations, innovative talks and workshops.
Do you wish for less stress and more control in your life? Receive monthly tips and free insight from Kathryn, with the Art of Balance on the website: www.kathrynwilking.com (Your email is protected.)