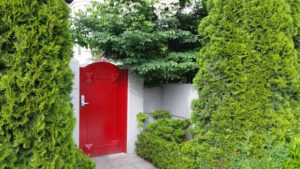 ASK KATHRYN about Front Doors Painted Red.
Q: Is it true that I should paint my front door red for good luck?
A: That depends what your intention is for the front door and your family. Painting your front door a red colour will certainly attract attention to your home, right out to the curb. It is important for others to find your home: helpful people, trades or emergency persons, as well as pizza delivery. Red is a lucky colour in Chinese culture and represents fire, fame and attention.
A red door is very auspicious facing most directions, but if your door is facing south, you may choose NOT to paint the door red. When facing south, this direction of the door expands this hot element. Instead of magnifying more red, choose a progressive colour in the Five Elements range, using earth tones in yellows, orange, rust or warm caramel colours to calm down the heat.
Choosing a 'cool tone' may work in the intense heat in certain areas, but facing north in northern areas, you may find it too cold, and not as welcoming as you wish. Choosing a colour that will specifically 'work for you' requires insight into the outcome.
~ Enjoy the Journey, Kathryn
~ Kathryn Wilking is an Author, Home Stager and Feng Shui Consultant. She works with Home Owners and Small Businesses to find balance and harmony in each situation. Kathryn delivers 'Practical Solutions for Life' through The ONE-ROOM Rescue and unique personality profiling with the Fantastic 5 Elements!
As an active Professional Member of the International Feng Shui Guild, Kathryn is available for private consultations, innovative talks and workshops. Check out her book 'Practical Feng Shui for the Office' (2013) and connect with her through www.kathrynwilking.com
FB Kathryn Wilking Designs
@KathrynWilking
# Fengshui vancouver