Q: Kathryn, I've noticed that whenever I ask a feng shui question, the answer begins with 'that depends'. What is it with the vagueness of this venue that I can't get a straight answer about how to set up my room and get ahead in life? ~Marie
A: Good question, Marie. And yes, the answer depends on so many factors.
Feng shui is more than moving furniture around and collecting gold coins. Not only do you need to have your bed/desk/stove and more in the right spot, feng shui has to factor a balance within your energy and the energy inside and outside your home. Balance your home first and then, the energy will extend into your office.
Here is a way to start: you need to look at the material items that surround you. Try to establish a balance between the older more sentimental items you wish to keep and the (possibly) newer items that can support your goals moving forwards. If you are reluctant to remove certain items from your home, you may need a different 'cure' or 'enhancement' to ensure a balance.
For example, if you wish to establish a new relationship: By continuing to hang on to items accumulated or gifted to you by a past relationship, these can hold you back. Until you are ready to move these items from the past, you will be 'blocking the road', struggling to move forwards. Memorabilia keeps the memories, good and bad, and they can be stagnating.
Another example, if you wish a promotion in your work. You may need to look at other issues rather than just the promotion. Other issues can be weighed, such as wearing appropriate clothes to show that you are 'ready' for the promotion. The old saying, 'walk the walk and talk the talk' determines if you can represent the company; they will be looking at how you fit into the plan. It may be time to retire the Hello Kitty purse and black nail polish to grow into the next position. Take notes regarding how other executives dress and how they handle themselves. Keep your devices up to date and keep your social time clear of misconduct; as everything these days counts in the evaluation.
In addition, continue self-improvement and education. Knowledge is very important in order to make sound business and partnership decisions. Asking questions and being well informed can help you avoid self-sabotage and help you to move forwards.
All of these things I mentioned above work into the big picture of feng shui. For more information to locate the auspicious areas in your space, refer to the bagua grid. bagua- link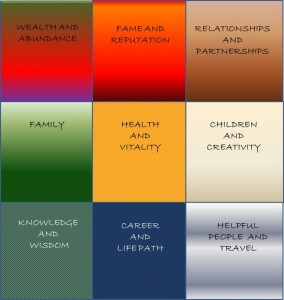 You may be trying to change everything at once. Try to focus on only one or two areas of your life at one time, the others will follow in a natural rhythm of support. Trying to do too much will only upset your space further.
Please contact me if you'd like further discussion.
All the best,
Kathryn
~ Kathryn Wilking is an Author, Home Stager and Feng Shui Consultant. She works with Home Owners and Small Businesses to find balance and harmony in each situation. Kathryn delivers 'Practical Solutions for Life' through The ONE-ROOM Rescue™ and unique personality profiling with the Fantastic 5 Elements!
As an active Professional Member of the International Feng Shui Guild, Kathryn is available for private consultations, innovative talks and workshops. Check out her book 'Practical Feng Shui for the Office' and connect with her through www.kathrynwilking.com
FB Kathryn Wilking Designs
@KathrynWilking
# Fengshui vancouver