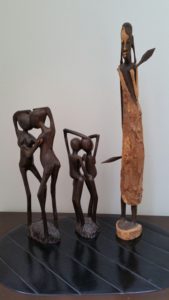 Q: Kathryn, I'm getting ready to move and clearing out a few things. I came across a box of souvenirs we picked up from our trip to Africa years past and I don't know if they are good for feng shui or not. I have a couple of masks, some animal carvings and a ceremonial dagger. Can you tell me if they are okay to keep, and where to put them? Or, do I just give them away? Thanks.
A: Thanks for the pictures. Many times, the answer to a specific question is, 'That depends', as there is usually more information required for a yes/no answer. Think about why you wish to keep them (or display them). Here are some general guidelines:
• Animal Carvings: Animals and pets fall into the fire category. They should bring life and joy into your home. Place the tall ones in wealth area or fame area of your home. It is also okay to have a little fire-whimsy in other rooms. Just don't overfill one room with wild animals. The dancing figures look happy; you need happy in a home. Also, make sure you LOVE each item before you decide to keep them all.
• Masks: If the masks were produced for tourism or 'brand new items', they should be okay to keep. (Masks can have significance of someone hiding something…so consider that too.) If they have been used in ceremonial blessings or voo-doo, I'd suggest you remove them from you house. The masks should feel 'harmless' or 'playful', in order for them to stay in your home.
• Ceremonial Dagger: Refer to the notes above, and in addition, this item has a deeper message. Since it has a blade, a dagger is seen as aggressive. If placed in an area where you are trying to grow or enhance something (For example: wealth or relationships), the dagger could represent the saboteur for the area. Feng shui works with positive energy and doesn't encourage the placement of recreational guns, fireworks, swords or trophy knives (and the like) in any residential home.
Since you've keep these items in a box or storage for a while, you may wish to ask yourself 'Why did these items end up in storage?". Decide whether you really like them at all and whether you feel good unpacking the box.
The uniqueness of these items representing a specific culture could be of value. If you feel there is any 'weirdness' about keeping these items, rather than keep them boxed up, perhaps donate them to a museum.
All the best,
Kathryn
Do you have a question for Kathryn? Submit yours and she'll be in touch. kathryn@kathrynwilking.com
~ Kathryn Wilking is an Author, Home Stager and Feng Shui Consultant. She works with Home Owners and Small Businesses to find balance and harmony in each situation. Kathryn delivers 'Practical Solutions for Life' through The ONE-ROOM Rescue and unique personality profiling with the Fantastic 5 Elements!
As an active Professional Member of the International Feng Shui Guild, Kathryn is available for private consultations, innovative talks and workshops. Check out her book 'Practical Feng Shui for the Office' (2013) and connect with her through www.kathrynwilking.com
FB Kathryn Wilking Designs
@KathrynWilking
# Fengshui vancouver